A breakfast bar is a lovely feature to have in your kitchen, where you can share meals together and be in the heart of the kitchen at the same time. Breakfast bars have no set design and can be designed exactly how you want.
Most breakfast bars are usually incorporated into a kitchen island or peninsular and are complemented with some elegant bar stools or chairs, to finish it off and to give a comfy & inviting place to sit.
A peninsular is basically a run of kitchen units that are either attached to the main kitchen or come out from a wall. See below for an example.
Breakfast bar examples
If you are looking for a little inspiration and some ideas on how your breakfast bar could look, then look no further! Here are some examples that our customers have installed in their kitchens.
Click on the images below to see a larger preview.
Breakfast bar worktop overhang
The recommended worktop overhang for a breakfast bar is 300mm. This overhang is needed to be able to get chairs and your legs underneath it, to be able to sit comfortably. The maximum overhang you can have with a solid surface worktop, like quartz, and with no support underneath it is 300mm. Any overhang over 300mm, will require some support, such as a supporting leg or base units.
The example below shows a breakfast bar with the worktop supported on the ends with 2 base units. If you decided to have a deeper space under the breakfast bar, then this would be an ideal way of creating it.
The worktop overhang over the other sides of the island/peninsular will be around 20mm.
Here is an example of a breakfast bar and how it was constructed.
Split level islands with breakfast bars are also possible by using some 900mm tall wall units and using them as base units. This article explains how to create one.
How wide does my breakfast bar need to be?
The smallest width an island with breakfast bar seating for 2 people can be, is between 1000mm & 1200mm wide. This is because you need between 500mm & 600mm for each seat under the breakfast bar. Of course, you can make your island/breakfast bar any size you want to but there are limitations on the biggest size of worktop piece, depending on the material that you choose.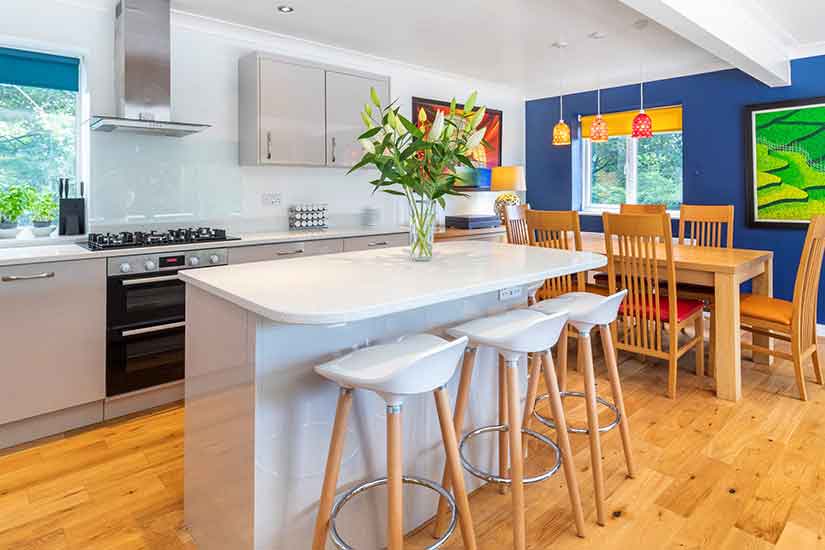 With regards to the depth of the island, there is no set size here but it is worth thinking about the worktop that you are going to have on the island/breakfast bar.
Our solid surface supplier's jumbo pieces of quartz are a maximum of 3.2m long x 1.4m deep, so there is plenty of scope there to design a bigger island.
If you are using a solid wood or laminate worktop then the sizes of these worktops are a little smaller in depth.
Solid wood worktops are up to 3000mm long and are either 620mm, 720mm, 900mm or 960mm deep. Examples of our solid wood worktops can be found here.
Laminate worktops (Quadra) are up to 4000mm long. When using a Quadra laminate worktop on an island then you will be limited to depths of 670mm & 900mm, as you will need to choose one of the breakfast bar/island worktops, as these are edged on all 4 sides.
Laminate worktops (Square Edged) are up to 4000mm long. When using a square edged laminate worktop on an island then you will be limited to depths of 640mm, 680mm & 940mm, as you will need to choose one of the breakfast bar/island worktops, as these are edged on all 4 sides. These sizes can differ between square edged laminate worktops as well, so it may be worth choosing your worktops before designing your breakfast bar/island.
Top
Tip
When ordering stools to go under your island/breakfast bar, please check the height of them as 'counter' stools are not the same height as 'bar stools'. Bar stools can be a lot taller!
A counter stool measures between 610mm – 736mm from floor to seat.

A bar stool measures between 711mm – 762mm from floor to seat.
Many of our customers buy their breakfast bar stools from Atlantic Shopping.
---
Bar & counter stool inspiration
Have a look at our Pinterest board to get some inspiration on different bar & counter stool designs
---
Download our mobile app
Looking for some kitchen inspiration? Take a look at some of our real customer kitchens, video reviews as well as advice in our mobile app. We'll also keep you up to date with any new ranges and offers that we have available.
Up to 50% off competitor kitchen prices
At DIY Kitchens, not only do you get a quality rigid built kitchen but you also get it at a fabulous price too! Price your kitchen up on our site and you could see savings of up to 50% off other kitchen quotes that you've had.
Take a look at our kitchen price comparison page here.
Real customer kitchens
Get some inspiration for designing your own new kitchen with over 3,000 pictures of our customers' kitchens that they ordered from us.
Related articles