We have many different types of cutlery inserts that will help to keep your cutlery neat and tidy and easily accessible that fit perfectly into our kitchen unit drawers. Our cutlery inserts can hold your traditional knives, forks and spoons or we have some available especially designed to hold your sharp cutting knife collection.
What size cutlery inserts are available?
Our cutlery inserts come in a few different sizes, as shown below. All measurements are for the width of the drawer that they will be place into.
400mm wide
500mm wide
600mm wide
800mm wide
900mm wide
1000mm wide
We also have some wooden cutlery inserts that are expandable to accommodate drawers from 450mm wide right up to 1000mm. One such example is shown below.
What are the cutlery inserts made from?
Our cutlery inserts are made from plastic or wood (beech).
How much do cutlery inserts cost?
If you're after a basic cutlery insert then we have some plastic inserts available from just £5. If you want something a little more refined then we have many wooden inserts to choose from.
A full list of cutlery inserts available can be seen here.
What are the 2 wooden strips for?
Some of our wooden cutlery trays are supplied with 2 wooden strips, as shown in the image below. These wooden strips, slide into the 2 sides of the cutlery tray, to bridge any gap between the cutlery tray and the end of the drawer. As the drawers are narrower at the bottom than the top the cutlery tray itself can only be made to fit in the smallest part of the drawer.
Cutlery insert examples
Here are some examples of cutlery inserts in use in some of our kitchens in our showroom.
You can also accessorise your oak cutlery inserts with oak spice racks, oak knife blocks and oak dividers.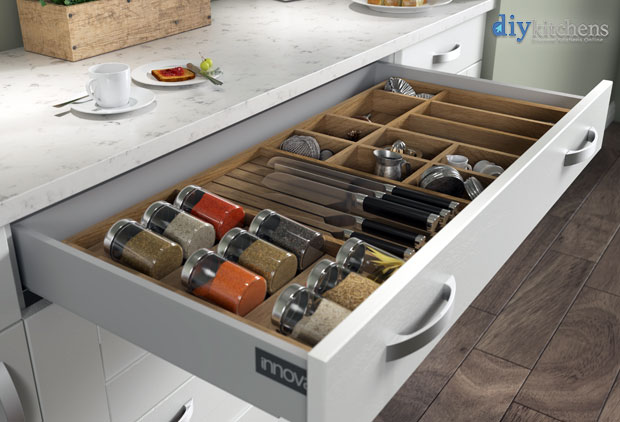 You can see all the cutlery inserts we have available here.
Download our mobile app
Looking for some kitchen inspiration? Take a look at some of our real customer kitchens, video reviews as well as advice in our mobile app. We'll also keep you up to date with any new ranges and offers that we have available.
Up to 50% off competitor kitchen prices
At DIY Kitchens, not only do you get a quality rigid built kitchen but you also get it at a fabulous price too! Price your kitchen up on our site and you could see savings of up to 50% off other kitchen quotes that you've had.
Take a look at our kitchen price comparison page here.
Real customer kitchens
Get some inspiration for designing your own new kitchen with over 3,000 pictures of our customers' kitchens that they ordered from us.
Related articles