When designing your kitchen, it's important to think about how the hot air and smells from the hob are going to be extracted. When doing this, there are a few cooker hood options depending on your preferences like where the hob will be installed and ultimately, how much of a budget you have to spend on this appliance. Another consideration to make is how the air will be ventilated and cleaned.
Quick links
The next 2 sections will cover air ventilation.
Air extraction ventilation explained
The air extraction system (ducting) uses aluminium filters to absorb all the grease, which can be washed in warm soapy water when cleaning is required. If you are just using aluminium filters then you will need a ducting kit for the cooker canopy to send the air outside.
Ducting kits are usually bought separately and don't usually come with the cooker hoods, unless stated.
Air recirculation ventilation explained
The air recirculation method also uses the aluminium filters to absorb the grease, but the air is then passed through a carbon/charcoal filter to clean it and then passes the clean air back into the kitchen.
The sections below show some of the most common types of cooker hoods and extractors available for your kitchen, which are listed in order of cost.
Chimney hoods
Chimney hoods are very popular in many kitchens. The hood stands proud above the hob and features a tall chimney that usually reaches to the ceiling to allow extraction of cooking smells and warm air. Recirculation versions of these units are available but if you have the chimney version, then you might as well use it for the purpose in which it was made:-)
On our website you would expect to pay between £65 and £700 for a chimney hood.
Canopy cooker hoods
A cooker canopy hood is a very simple and convenient way of removing smells and odours from your kitchen. The canopy fits neatly on the underside of a kitchen unit and is virtually unnoticeable, apart from the controls on the underside of the unit. These types of cooker hoods can use both the recirculation and extraction systems to deal with odours and smells, but this depends on the model that you buy.
On our website you would expect to pay between £70 and £170 for a canopy hood.
Integrated hoods
Integrated cooker hoods, much like canopy hoods fit seamlessly into your kitchen. But, these types of cooker hoods require their own space in your kitchen between 2 existing wall units. Once fitted, a door is then attached to the front of the integrated hood unit so that it blends in with the rest of the kitchen. The door then allows you to pull open the unit, which allows for escaping air and odours to be captured and dealt with.
These types of cooker hoods can use an extraction system or a recirculation system, depending on your own personal preferences.
On our website you would expect to pay between £80 and £800 for a integrated hood.
Kitchen island hoods
Kitchen island hoods are big and can come with a hefty price tag, but if you have the space for a kitchen island and you are planning on doing all the cooking on it then you are going to need an island hood.
Although these units are quite big, they can look pretty attractive with some of them featuring built in lights to give your kitchen some ambience once the cooking is complete.
Some of these kitchen island hob extractors also come with external ventilation and air recirculation models. Air recirculation is a method that is used if there is no way to push the air outside through a chimney system from the cooker hood. The air is cleaned through a charcoal filter and fresh cleaner air is dispensed back into the kitchen.
On our website you would expect to pay between £360 and £1000 for a kitchen island hood.
Downdraft extractors
If there is no space in your home for a traditional cooker hood or you just don't like the sight of them, then there is a solution, albeit an expensive one. It's called the downdraft extractor.
These extractors are slotted into your kitchen worktop and will pop out when needed at the touch of a button. See the example picture above to see what they look like and how they function. This is by far the coolest type of hob extractor out there and quite possibly the most expensive but hey, cool gadgets don't come cheap!
On our website you would expect to pay around £1000+ for a downdraft extractor.
Follow DIY Kitchens's board Cooker Canopy Hoods on Pinterest.
You can see all the cooker hoods shown in the image below.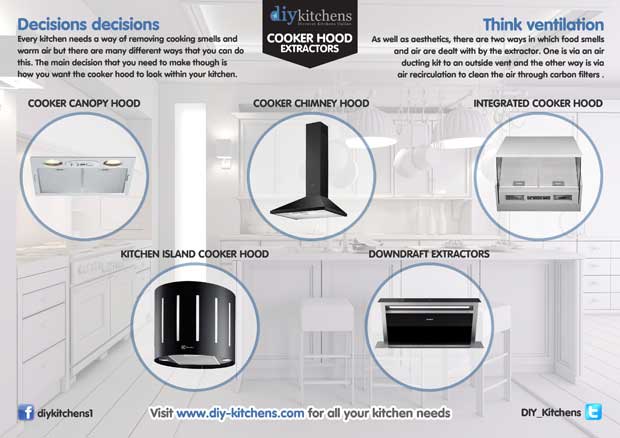 You can download a copy of the image above as a PDF here.
Download our mobile app
Looking for some kitchen inspiration? Take a look at some of our real customer kitchens, video reviews as well as advice in our mobile app. We'll also keep you up to date with any new ranges and offers that we have available.
Up to 50% off competitor kitchen prices
At DIY Kitchens, not only do you get a quality rigid built kitchen but you also get it at a fabulous price too! Price your kitchen up on our site and you could see savings of up to 50% off other kitchen quotes that you've had.
Take a look at our kitchen price comparison page here.
Real customer kitchens
Get some inspiration for designing your own new kitchen with over 3,000 pictures of our customers' kitchens that they ordered from us.
Related articles