All our drawerline base units as standard, are supplied with a Blum Tandembox A Design, featuring a twin-walled metal sided drawer system. The drawer bases are solid and 16mm thick with a metal back, incorporating full extension runners with soft close dampers, which are additionally available.
This is a fantastic drawer configuration but some people like the look and feel of the more traditional solid wood, dovetail drawers, to complement their kitchen and give it that extra finishing touch.
Dovetail drawer upgrade
We are also able to supply wooden dovetail drawer boxes in all our kitchen ranges (all widths), for a surcharge of £35.00 per drawer box upgrade (this does not include the big pan drawers).
When you are ready to order, please send us a support ticket here or call us on 01977 608 418 and the sales team will update your shopping cart for you.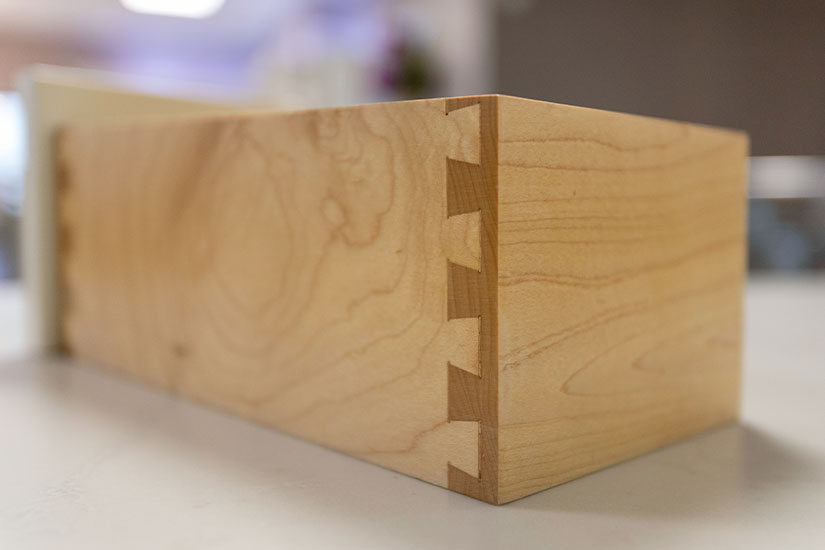 Soft close
The dovetail drawers can also be supplied with soft close, to match the experience you get with all the other drawers & doors, when they close, smoothly and quietly. The dovetail drawers are also adjustable just like the original drawers that we provide.
Cutlery inserts
Unfortunately, we do not supply any cutlery inserts to accommodate the dovetail drawer boxes, however, some customers purchase the plastic cutlery trays and trim the edge off it, to fit.
Download our mobile app
Looking for some kitchen inspiration? Take a look at some of our real customer kitchens, video reviews as well as advice in
our mobile app
. We'll also keep you up to date with any new ranges and offers that we have available.
Up to 50% off competitor kitchen prices
At DIY Kitchens, not only do you get a quality rigid built kitchen but you also get it at a fabulous price too! Price your kitchen up on our site and you could see savings of up to 50% off other kitchen quotes that you've had. Take a look at our kitchen
price comparison page here
.
Real customer kitchens
Get some inspiration for designing your own new kitchen with over 3,000
pictures of our customers' kitchens
that they ordered from us.
Related articles