A downdraft extractor is a very clever way of removing cooking smells and steam from your hob, without the need to have an overhead extractor, as seen in many homes.
The downdraft extractor sits behind your hob and rises out of your worktop when in use, as shown in the video below.
Because the downdraft extractor sits behind your hob, this does change the amount of space needed (depth) on one of your kitchen runs, which we'll cover in more detail in a moment below.
Downdraft extractor examples
Here are some downdraft extractors that have been installed into some of our customers' kitchens.
How do I create space for the downdraft extractor?
This is a common question asked by many people and it is one that needs a fair bit of consideration.
When installing a downdraft extractor, you need to leave enough space behind the unit that the hob will sit over. The amount of space required by the downdraft extractor does differ, depending on the one you choose but if you leave 300mm of space behind the unit that the hob sits above then that will be enough space to cover any sized downdraft extractor.
Now, because you have 300mm of space behind your hob, all the units in that kitchen run will need the same amount of space behind them too. So, the depth needed on that kitchen run would be 300mm (extractor space), 560mm base unit & a 20mm door. This equals 880mm. The worktop will also need a 20mm overhanging, giving you a required worktop depth of 900mm.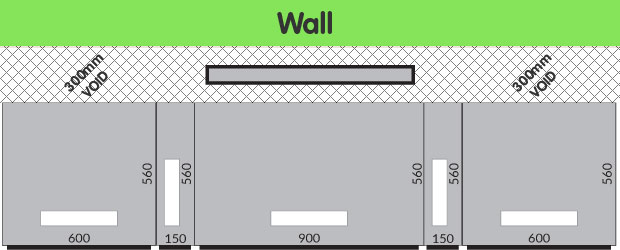 We supply laminate worktops in breakfast bar sizes, which are 900mm in depth, so there will be no need to cut any off the back of it.
How do I secure my units?
Another popular question regarding downdraft extractors is:
(Q) "I'm putting in a downdraft extractor into my kitchen design and understand that I will need to leave 300mm of space behind the unit. This also means that all the units in that run will need to come forward 300mm away from the wall. What is the best way to stop these units moving, as there is no wall to support them?"
(A) There is no easy way of doing this. The best way to secure your units initially is to connect them all together using the connecting screws supplied with all our kitchens. Then at points in the kitchen run, place batons that connect the unit to the wall for extra stability. Once the worktop is in place then everything is held into position.
Can I create a kitchen breakfront?
Yes you can but you may need to rethink your worktop choice. Our article below explains what a kitchen breakfront is, if you need to do some background reading first.
So, as you can see from the image below, the unit with the hob above it juts out only as much as necessary, to accommodate the downdraft extractor. What some people do then is attach radius feature ends to the unit, to give a curved effect. This way, only 1 unit is brought forward and all the others butt up to the wall.
Now, that may seem simple enough but look at the area that the worktop has to cover. It is not possible to use laminate worktops (that we supply) to cover a kitchen breakfront. You would need to use solid wood like Oak or a solid surface like a Granite, Quartz or Dekton worktop.
Download our mobile app
Looking for some kitchen inspiration? Take a look at some of our real customer kitchens, video reviews as well as advice in our mobile app. We'll also keep you up to date with any new ranges and offers that we have available.
Up to 50% off competitor kitchen prices
At DIY Kitchens, not only do you get a quality rigid built kitchen but you also get it at a fabulous price too! Price your kitchen up on our site and you could see savings of up to 50% off other kitchen quotes that you've had.
Take a look at our kitchen price comparison page here.
Real customer kitchens
Get some inspiration for designing your own new kitchen with over 3,000 pictures of our customers' kitchens that they ordered from us.
Related articles