A question that we were recently asked was "I'm looking to order from you and I'm having a small peninsular, but I don't understand the difference between your base units and your peninsular base units. Why would I need a peninsular unit instead of a standard base unit? And what goes at the back of the unit?"
Peninsular base units
Well, a peninsular base unit looks very similar to a standard base unit but the difference is, there are doors on both sides of the unit, so that it can be accessed from either side of the peninsular. That's basically all there is to it and no backing like a peninsular back panel is required in this instance.
What is a peninsular in a kitchen?
A peninsular in a kitchen can resemble a small island but what makes it a peninsular is the fact that it is still connected to a kitchen run or wall and usually goes out into an open space, where both sides of it can be accessed.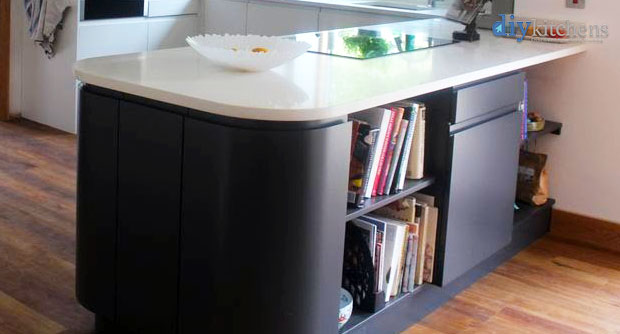 The peninsular can either use peninsular units, as mentioned above or it can be made with standard base units. With standard units, you can even adapt the peninsular into a breakfast bar. Either way, the peninsular can add a nice little feature into your kitchen design.
If using standard base units to create your peninsular, you can get pretty creative with it and choose reduced depth units one side and full size the other, if you wanted to create something a little wider, like you would do with an island.
You can even finish the end of the peninsular with a few curved units to give it smooth finish.
When using peninsular base units, these are 560mm in depth with doors on both sides so, the width of a peninsular, using peninsular base units cannot be made any wider. Also, because of the 560mm depth, you cannot have curved base units at the end of the peninsular, as each curved unit is 300mm wide and 2 of these would equal 600mm. When you then add on the width of 2 doors, this would make it ~640mm wide (~40mm) too wide at the end and the curved doors would stick out the sides.
Peninsular units & laminate worktops
When placing a laminate worktop onto peninsular units that open from both sides, you will not be able to use a standard 600mm deep laminate worktop on them, as this worktop would not give you an overhang over the units.
As the peninsular units are 560mm deep and with 2 doors (~40mm), the total depth from left to right is ~600mm. The worktop needs to overhang both sides slightly, so 600mm will not be deep enough.
We recommend an overhang of 20mm past the tops of the doors and the only laminate worktop we have to accommodate this is the 640mm deep breakfast bar, in the square edged laminate worktop range. If you are using granite or quartz then you can have the worktop cut to size.
More peninsular examples
Here are some pictures of peninsulars that our customers have created in their own kitchens. Have fun planning your own!
Download our mobile app
Looking for some kitchen inspiration? Take a look at some of our real customer kitchens, video reviews as well as advice in our mobile app. We'll also keep you up to date with any new ranges and offers that we have available.
Up to 50% off competitor kitchen prices
At DIY Kitchens, not only do you get a quality rigid built kitchen but you also get it at a fabulous price too! Price your kitchen up on our site and you could see savings of up to 50% off other kitchen quotes that you've had.
Take a look at our kitchen price comparison page here.
Real customer kitchens
Get some inspiration for designing your own new kitchen with over 3,000 pictures of our customers' kitchens that they ordered from us.
Related articles