A question that we were recently asked  was "do you have any tips for placing a hob in a corner, preferably with pan drawers underneath? Or an L shape unit with 3/4 carousel?"
Corner hob over a pan drawer
Well, if you wanted to use a pan drawer in a corner then it would have to be packed out with end panels either side, to allow for the drawers to open. Due to the amount of space that this will take, we generally advise against it and we would advise getting a designer/fitter to ensure the position works with the space you are proposing in your kitchen.
Hob over an l shaped unit
If you needed to put the hob over an l shaped unit, again access would be an issue and also the surface area would not be deep enough. Ideally you would have to use a diagonal corner unit as shown on the right of the image below.
You may run into issues as well, having to cut into the joins of 2 laminate worktops on the corner. You may need to go for a solid surface worktop like quartz, so that your hob can be slotted into a neat cut-out.
Can I have a pan drawer under an Induction hob?
If you are planning on having your hob (induction, gas or electric) on a straight run then you can have any unit that you like below it. The hob basically sits within the worktop and does not encroach into the unit space.
Please note that some induction hobs can be quite deep, so please ensure that you consider this when using a pan drawer unit below with a cutlery tray, as space could be very tight and unless your worktop is 40mm deep then the bottom of the hob could collide with the contents of the drawer below. Most inductions are 40-60mm deep, so 20/30mm worktops will be an issue.
Another thing that you need to be mindful of is there will be some wires for electric or gas that will need to go out of the back of the unit, into the 42mm service void, to connect to a power/gas source.
Here are some examples of hobs above some kitchen units.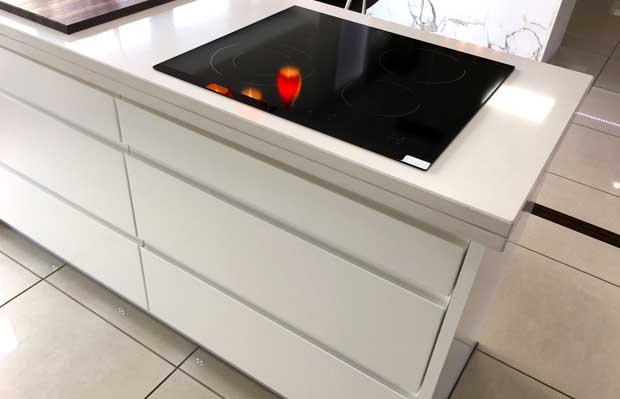 Download our mobile app
Looking for some kitchen inspiration? Take a look at some of our real customer kitchens, video reviews as well as advice in our mobile app. We'll also keep you up to date with any new ranges and offers that we have available.
Up to 50% off competitor kitchen prices
At DIY Kitchens, not only do you get a quality rigid built kitchen but you also get it at a fabulous price too! Price your kitchen up on our site and you could see savings of up to 50% off other kitchen quotes that you've had.
Take a look at our kitchen price comparison page here.
Real customer kitchens
Get some inspiration for designing your own new kitchen with over 3,000 pictures of our customers' kitchens that they ordered from us.
Related articles