Quite often, our customers are required to place a sink unit where there is no window, natural daylight or where space is very limited. The article below will show some of our customers' kitchens and what they did to integrate a sink unit into their very own kitchens, where placing it in front of a window, was not an option.
Wall units & top boxes
Probably the most popular choice is to fit a wall unit or top box above a sink, where there is no window present. The wall units help to continue the lines of the kitchen and encase the sink area nicely. A few lights and plants can also make the sink area more appealing. You will want to make this area as pleasant as possible, as you will spend in the region of 5 hours every week, over the sink, unless you have a dishwasher!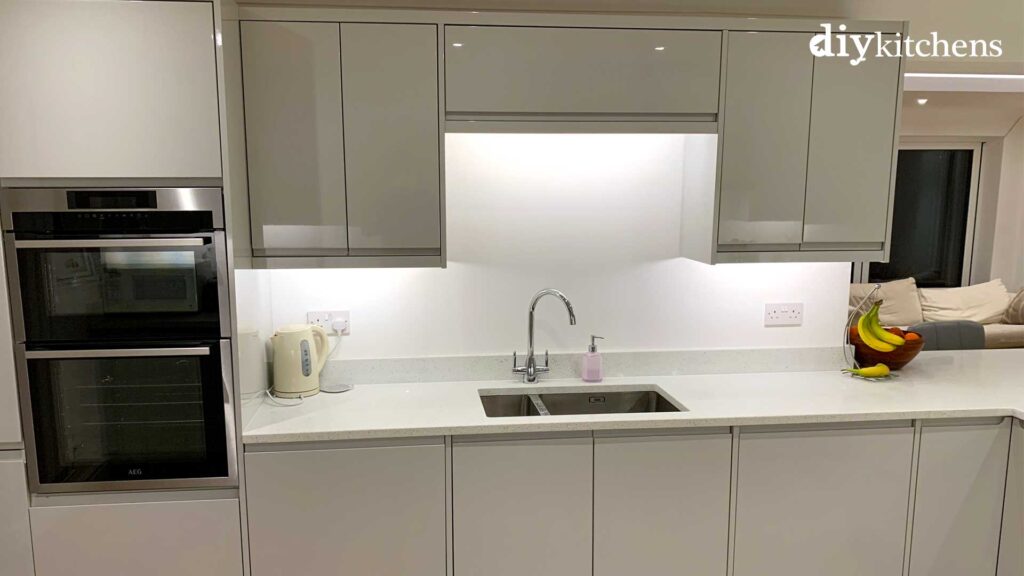 With regards to positioning a wall unit above a sink, we would usually recommend around a 600mm gap between the worktop and units. If you can clean the pots and not bang your head then you won't go far wrong!
Mirrors
If you want the feeling of space and want to give the impression of a window, then some people opt to have a mirror in front of the sink. Not only does the mirror give the feeling of space but it also bounces light around, which can make the area feel a little more illuminated.
The only downside to this is that you will have to stare at yourself every time you do the washing up!
Shelves
Shelving above a sink is also a very popular choice and gives some great storage space at the same time. You can use this space to store some commonly used items like tea, sugar & spices or use it as a display area. A bit of led lighting could also illuminate the area, and give the effect of some daylight coming in.
Corner sink units
Sometimes, space is at a premium and people want to maximise the usable worktop space, as much as possible. A great way to achieve this, is by placing the sink into a corner sink base unit. The draining board then goes into the area that meets the wall and if you have a quartz surface with cut-in drainer grooves, then the space can be repurposed temporarily, when there are no pots and pans to wash.
Islands
If you are struggling to find a location for your sink and you have an island, then you have the perfect place to create something a little different and really make a feature of it with some decorative taps and bold sink.
The only downside to this is that you will need to get water and drainage to the island, which may not be that easy and could add to the costs of your kitchen renovation.
Can I use a normal base unit for a sink?
Yes, a normal base unit could be used for a sink (A). The difference between a sink base unit (B) and a normal unit (A), is to do with the back of the unit. In a sink unit (B), the back of the unit is lower, which leaves a gap at the top for pipes to easily connect to water inlets and drainage. If you ordered a normal base unit (A), then you would need to cut away at the back to get to the services.
How big does the sink unit need to be?
A sink base unit only needs to be as big as to conceal an inset/undermounted or Belfast sink bowl and any plumbing underneath it. Please note that inset sinks are positioned on top of a worktop, as well as the draining board too. You don't need to account for the width of the draining board when choosing a sink unit, as it could span over the top of another unit just fine, unless you were looking for symmetry with the sink & draining board, being positioned centrally above the sink unit.
Another important consideration to make is if you will be installing an instant hot water tap (Quooker taps are a good example). If so, these require their own water inlet, as well as the box that heats the water and associated pipes to get the water up to the hot water tap. All these items take up space. If you plan on storing cleaning items under the sink as well, then the space you need might be more than you first thought.
If you are considering fitting a pull-out sink base unit then please bear in mind the above information, as all the pipes and draining, will have to be located in the centre, at the back, because of the runners on the sides of the base unit.
If you are installing an undermount sink, then please be aware that these sinks take up a more room inside the base unit, as there is usually a support bracket to be fitted under the sink too.
You can see all the available sink units on our main site here.
Download our mobile app
Looking for some kitchen inspiration? Take a look at some of our real customer kitchens, video reviews as well as advice in
our mobile app
. We'll also keep you up to date with any new ranges and offers that we have available.
Up to 50% off competitor kitchen prices
At DIY Kitchens, not only do you get a quality rigid built kitchen but you also get it at a fabulous price too! Price your kitchen up on our site and you could see savings of up to 50% off other kitchen quotes that you've had. Take a look at our kitchen
price comparison page here
.
Real customer kitchens
Get some inspiration for designing your own new kitchen with over 3,000
pictures of our customers' kitchens
that they ordered from us.
Related articles