Many people do forget to factor in the space that end panels take up into their kitchen design. An end panel is around 18mm – 25mm wide and they are generally used at the end of kitchen runs, on wall units either side of a kitchen extractor, at the side of tall units and between integrated appliances.
If you were going to have a 25mm end panel at each end of a kitchen run then you would have to subtract 50mm (5cm) from the overall width of the length of the kitchen run. The space left is where you need to plan your units widths to fit the remaining gap.
Remember, not all vertical walls are plumb! A kitchen run that measures 3000mm in width when measured at the bottom could measure 3005mm when the measurement is taken 1 meter up the wall! Please bear this in mind when planning as that 5mm could make all the difference if a unit is going to fit into position or not.
Are there alternatives to using end panels?
Yes. If you have a kitchen run with a unit like the one shown below, then the gap between the unit and the wall could be filled with a filler panel.
If you wanted to use an end panel and you had the same situation at the other end of the kitchen run, where the unit almost meets the wall, then simply cut the end panel in half vertically and attach the 2 pieces either side so that the smooth edges are showing.
Even though the end panels only go half as deep as the units, they will be just as sturdy, look just as good and will save you some money in the process.
End panels and extractor units
One point to really consider is, if you are having end panels at either side of your wall units  between the hob extractor, then do not forget to take into account the space that these end panels require.
If you have a 600mm wide pan drawer base on the floor and you have left 600mm above on the wall section then firstly, a 600mm wide extractor is going to be a tight fit! And, if you have end panels on those wall units then a 600mm wide extractor is never going to fit! Just have a quick logic test before you buy your appliances and you'll be fine.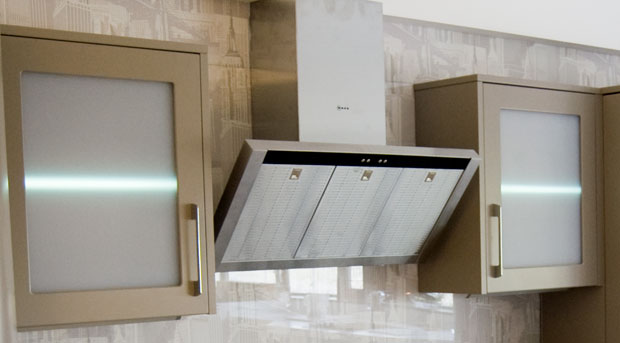 We offer extractor units ranging from 450mm wide right up to 1200mm. You can see what we have available below.
https://www.diy-kitchens.com/appliances/extractors/all-brands/all-extractors/all-widths/all-colours/


Download our mobile app
Looking for some kitchen inspiration? Take a look at some of our real customer kitchens, video reviews as well as advice in our mobile app. We'll also keep you up to date with any new ranges and offers that we have available.
Up to 50% off competitor kitchen prices
At DIY Kitchens, not only do you get a quality rigid built kitchen but you also get it at a fabulous price too! Price your kitchen up on our site and you could see savings of up to 50% off other kitchen quotes that you've had.
Take a look at our kitchen price comparison page here.
Real customer kitchens
Get some inspiration for designing your own new kitchen with over 3,000 pictures of our customers' kitchens that they ordered from us.
Related articles