When looking at tall units and the appliances that fit in them, it can be a little confusing working out which oven, microwave or coffee machine is going to fit! The guide below will give you all the information that you need in just a few minutes, so that you can order the correct unit and appliances and be a 100% confident that it's correct.
Tall unit aperture sizes
Believe it or not, even though the units below are all different heights with different appliance apertures, there are standard size apertures running through them all.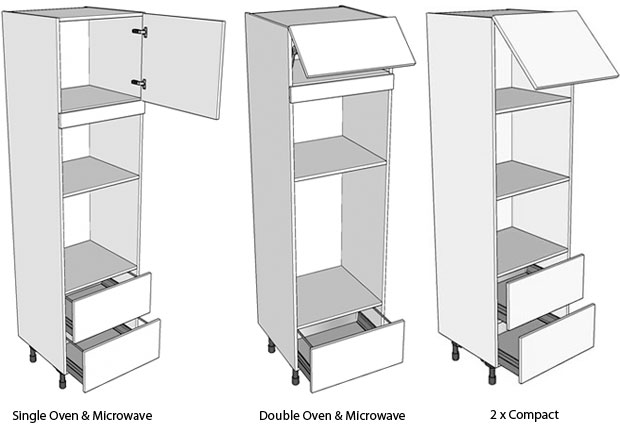 A microwave oven/compact app like a coffee machine aperture is 450mm in height
A single oven aperture is 600mm in height
A double oven aperture is 880mm in height
Here is a useful video from AEG, which talks above ovens and aperture sizes.
Appliance measurements
Apart from single ovens, microwave heights do differ quite a lot and double ovens at first appearance do seem to be available in conflicting sizes.
Keep on reading to see exactly what you should be looking for when buying integrated appliances for your tall kitchen unit.
Integrated single ovens are usually around 595mm high and fit perfectly in the tall unit.
Integrated microwave ovens do range from around 360mm to 455mm in height and will fit in your tall unit.
Integrated compact appliances are generally around 450mm but some have fascia giving a total size of 455, which will fit into the tall unit fine.
Integrated Double ovens measure around 880mm – 888mm in height and fit perfectly to our units. If you see a double oven that measures around 720mm in height then this is a built under oven that goes under your worktop. This one SHOULD NOT be ordered to be placed inside a tall unit.
A common question asked by many customers is "there are so many different heights of microwaves, will mine fit OK?"
If you have a smaller microwave than the size of the unit aperture then there is a filler panel supplied, to cover any gaps that remain, shown below and highlighted in green.


What other appliances are available for my microwave/compact housing aperture?
Your microwave and compact apertures are both 450mm high and will accommodate compact appliances of that size including coffee machines, microwaves, drinks machines & wine coolers.

Download our mobile app
Looking for some kitchen inspiration? Take a look at some of our real customer kitchens, video reviews as well as advice in our mobile app. We'll also keep you up to date with any new ranges and offers that we have available.
Up to 50% off competitor kitchen prices
At DIY Kitchens, not only do you get a quality rigid built kitchen but you also get it at a fabulous price too! Price your kitchen up on our site and you could see savings of up to 50% off other kitchen quotes that you've had.
Take a look at our kitchen price comparison page here.
Real customer kitchens
Get some inspiration for designing your own new kitchen with over 3,000 pictures of our customers' kitchens that they ordered from us.
Related articles