A tambour unit is very similar to a dresser unit that sits on your worktop. But rather than having a door that opens outwards, the unit has a roller door that opens upwards, inside the unit, which is very convenient if you are a little tight on space.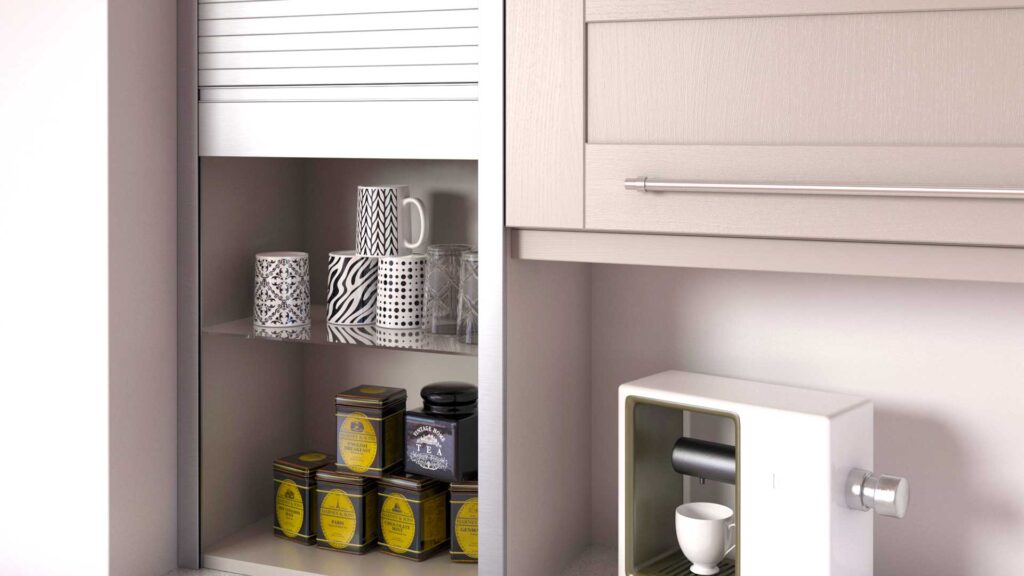 Tambour units are excellent for keeping small appliances such as kettles and toasters out of sight, as well as using them to store glass wear or even create your own tea making area. With the 3 adjustable shelves, you can easily reposition them to accommodate whatever you intend on using the unit for.
If you plan on keeping the roller door open, then you could even buy some glass shelves and use the tambour unit as a display feature, just brief the cat that the area is off limits first!
Tambour unit sizes
We offer tambour units in 2 widths, 500mm, 600mm and 1205mm in height to fit with our 1970mm (+150mm Legs) tall units & 720mm high wall units.
The tambour unit is not available 1390mm high unfortunately, as the doors are only made in the one size. If you needed a 1390mm high, worktop mounted unit to go with your 2150mm (+150mm Legs) tall units & 900mm high wall units, then you would need to use one of our dresser units.
Lining up tambour units with wall & tall units
As mentioned above, 1205mm high tambour units are used with 1970mm tall units & 720mm wall units. Now, this will work fine providing you are using a 40mm deep worktop.
If you are opting for a solid surface such as a quartz or granite worktop then these tend to be only 30mm thick. This means you have 10mm to make up somewhere.
If you have tall units to line up to then you can either use a filler at the top or the bottom of the tambour unit. Either option would work, however, we would usually recommend raising the tambour unit, rather than adding a filler to the top.
Inframe kitchens
We do not sell tambour units in inframe styles, as the tambour style door would not fit with the frame that is attached to the unit of an inframe kitchen.
If you require a tambour unit for your inframe kitchen then the only option is to choose a unit from any of our other non inframe kitchen ranges and just ensure that you have chosen the same carcase colour, as the rest of your kitchen.
Does a tambour unit have wall fixings?
No, none of the tambour or dresser units are fitted with wall fixings. If you want to attach a tambour unit to the wall though, you would need to use L brackets from any local hardware store.
Download our mobile app
Looking for some kitchen inspiration? Take a look at some of our real customer kitchens, video reviews as well as advice in
our mobile app
. We'll also keep you up to date with any new ranges and offers that we have available.
Up to 50% off competitor kitchen prices
At DIY Kitchens, not only do you get a quality rigid built kitchen but you also get it at a fabulous price too! Price your kitchen up on our site and you could see savings of up to 50% off other kitchen quotes that you've had. Take a look at our kitchen
price comparison page here
.
Real customer kitchens
Get some inspiration for designing your own new kitchen with over 3,000
pictures of our customers' kitchens
that they ordered from us.
Related articles