A question we were recently asked was "I want to hide a control unit for under floor heating. Can I use a stowaway unit (100mm deep) to do this, and are there any instructions for using/installing this unit, I assume it does not have legs?"
Well, stowaway units can be used and are 100mm deep but do not come with legs on them. There are no backs to the stowaway unit and it will just butt up against a wall. These units are usually used where a reduced depth unit is required to go around a soil pipe or where pipes are boxed in, to allow the unit to fit it in with the run of other units seamlessly.
The stowaway unit would be simply attached to the wall with some L-shape brackets and also attached to the adjacent base unit(s), with unit connecting bolts, for added stability.
What can I store in a stowaway unit?
As the stowaway units are only 100mm deep, you cannot get a great deal in them but they are ideal for little remote controls for lights, heating and if you have a soda stream drinks maker, you can even get those little drinks bottles in there too, see below!
A creative idea for a stowaway unit
A customer has recently used a stowaway unit as a wall unit to get around a soil pipe and requested that the unit come with no legs or leg bosses on (what the legs slot into).
As the stowaway unit comes with no back to unit or wall fixings, the unit had to be battened to the wall and attached to the adjacent unit, to keep it fully secured.
The customer then created a back for it from the back of a sink unit, where the back panel could not be used, as all the water pipes and main water inlet prevented them from using it. A bit of chipboard painted white would also do the trick.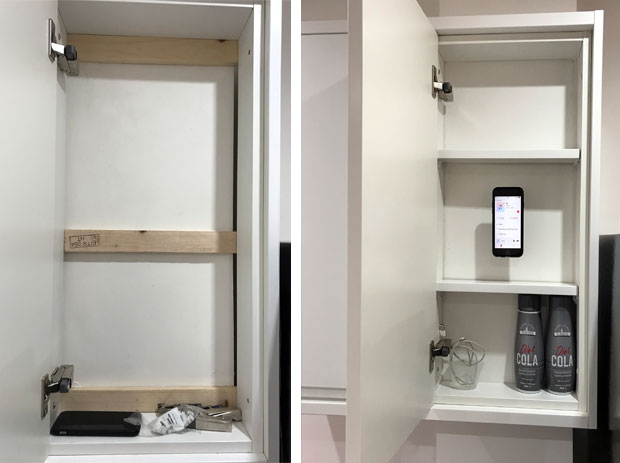 A few shelves have been added in there to give a little more storage, for soda stream bottles in this case and an iPod has been fitted in the middle to stream music to the Bluetooth speaker in the ceiling. When the unit is closed and has had end panels, cornice & pelmet added, it blends in with the rest of the units perfectly.
Stowaway unit sizes available.
The stowaway unit is shown on our website here and is available in widths of 500mm, 600mm, 800mm, 900mm & 1000mm. After 600mm, the unit is supplied with 2 doors.
Download our mobile app
Looking for some kitchen inspiration? Take a look at some of our real customer kitchens, video reviews as well as advice in our mobile app. We'll also keep you up to date with any new ranges and offers that we have available.
Up to 50% off competitor kitchen prices
At DIY Kitchens, not only do you get a quality rigid built kitchen but you also get it at a fabulous price too! Price your kitchen up on our site and you could see savings of up to 50% off other kitchen quotes that you've had.
Take a look at our kitchen price comparison page here.
Real customer kitchens
Get some inspiration for designing your own new kitchen with over 3,000 pictures of our customers' kitchens that they ordered from us.
Related articles