The inspiration for this 1.5 bowl sink article came from the following question on our Facebook page.
"What the devil are you meant to use this small sink for? the one on the right. It is barely big enough to wash your hands."
Well, this sink is called a bowl and a half or a 1.5 bowl. The small bowl is very small but it does have some practical uses which include, washing bits off plates before putting them into the main bowl for washing, you can fit a waste disposal underneath it for shredding veg waste, you can use it to store knife and forks before washing them and store your scrubbers and dish cloths in there out of the way.
To get some general feedback on this subject, I opened the question up to our fans on social media, and these are the responses that they came back with for the following question.
"Do you have a sink with a bowl and a half (1.5 bowl sink)? If so, what do you use it for?
In favour of the 1.5 bowl sink
My parents use it as storage for the washing up liquid!
I use it for storing knife and forks. So far it's 50/50 across here and Facebook. 50% use it 50% don't see the point of it. Could be a subject for debate
We use it for our waste disposal unit which is suspended under the small sink.
I'm having a waste disposal unit fitted in mine which is due to be delivered this week!
Oh Lordy yes I can't live without mine! It gets used all the time for draining small pans, hand washing and soaking the dishcloth in bleach every night. Wouldn't go back to single bowl. I can have washing up soaking and still do other jobs with the half bowl.
I thought the same thing, but now that I have one I couldn't live without it! Its used for draining off water from hot pots when there's dirty plates in the other, washing hands, rinsing off plates etc when washing up.. Storing washing up bottle and sponge lol the list goes on!
I rinse the soap off before going to drain whilst doing all the dishes
Not big fans of the 1.5 bowl sink
We used to have one! Silly little bowl! Exactly why we now have two full size sinks.
Here is 1.5 bowl sink in action with the small bowl being used as a storage and drainage space for wet cutlery.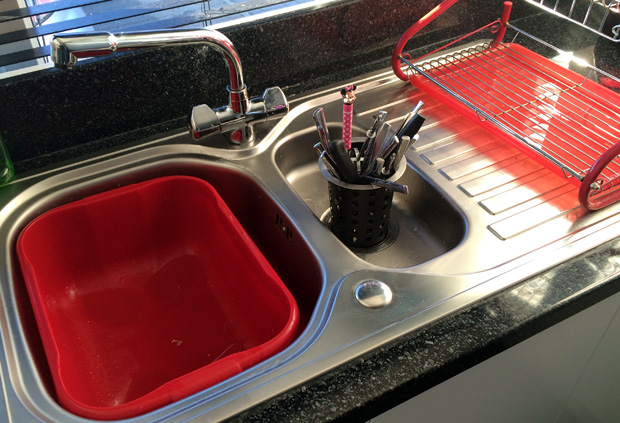 Send your pictures to show how you use yours to social@diy-kitchens.com
Download our mobile app
Looking for some kitchen inspiration? Take a look at some of our real customer kitchens, video reviews as well as advice in our mobile app. We'll also keep you up to date with any new ranges and offers that we have available.
Up to 50% off competitor kitchen prices
At DIY Kitchens, not only do you get a quality rigid built kitchen but you also get it at a fabulous price too! Price your kitchen up on our site and you could see savings of up to 50% off other kitchen quotes that you've had.
Take a look at our kitchen price comparison page here.
Real customer kitchens
Get some inspiration for designing your own new kitchen with over 3,000 pictures of our customers' kitchens that they ordered from us.
Related articles