A service void in essence is just a bit of blank space but this space is essential in the design of your kitchen.
There are 2 main types of service void that we mention on our website and in our download PDF kitchen planner. These are a rear service void and a side/corner service void.
These are explained in more detail below.
IMPORTANT FACT – No matter which corner base unit that you choose, you need to add on an extra 130mm and use this measurement in your kitchen plan. This is required to get a 70mm corner post. You will run into problems if you do not do this.
Service void quick reference
A standard depth base unit has a 42mm service void
Tall units have a 42mm service void
Slimline/reduced depth base units have a 17mm service void
Mantles have a 17mm service void
Wall units have a 17mm service void
Top boxes have a 17mm service void
Rear Service Void
All our kitchen base units have a 42mm service void built into the backs of them. These areas are invisible to the naked eye once the kitchen worktop has been placed on top of the kitchen base units. This service void would be used to conceal waste pipes and any kind of wiring that needs to be hidden out of the way.
So if we do some math, the depth of our kitchen units are 560mm – 42mm service void – 8mm back panel = a total usable unit depth of 510mm.
Some kitchen manufacturers do make kitchen units without a rear service void. If you have these kinds of units and need to conceal a waste pipe for example then you have a few choices.
1) Run the pipes (where possible) at unit leg level, there is about 15cm of room to play with.
2) Modify the kitchen unit and cut out as necessary to accommodate the pipe. This would be extremely messy and you would lose valuable cupboard space.
3) Bring the units forward slightly and buy a big worktop to cover the additional space that has been created behind the units. This could be more expensive and you would need some form of supports on the walls to rest the kitchen worktop securely onto.
Please note: All standard depth base and tall units have a 42mm service void to the rear, slimline/reduced depth base units and wall units have a 17mm service void.
Side/Corner Service Void
Corner base units need a service void on the side so that the units the meet at right angles line up correctly.
The examples that you see in our download PDF kitchen planner are service voids that "you have to accommodate for" when planning your kitchen, and here's why.
Here is a useful diagram for you to refer to that shows a side/corner service void.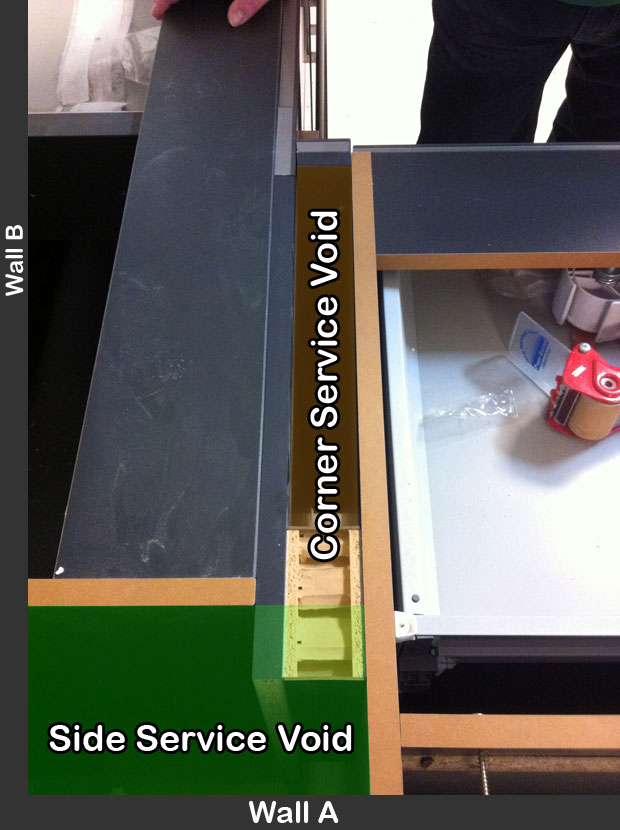 When you buy a standard corner base unit which is 950mm wide for wall B, you are not going to see half of it as it will be hidden by the unit the gets butt up to wall A to create the right angle. The unit that butts up to the wall A has a depth of 560mm. See the diagram below to better visualise this.
If both the units butted up flush with no gaps then you would get problems as you would not be able to open any of the doors as the corners would overlap.
The solution is to have a 130mm service void at the end of the run on Wall B, any less than that and you will run into problems and here's why. We'll also cover the corner post here as well briefly.
The width of the corner unit we are talking about above is 950mm wide. Allow for a service void of 130mm and you now have a working width of 1080mm, with a 450mm door for the corner unit.
Here's the math to show why it has to be this way (Use the diagram to help you visualise this).
You start off with a 950mm corner unit, which is 1080mm with the service void space
1080mm – 560mm (the first unit that you see on wall A that creates the right angle) and you are left with 520mm in the active kitchen area.
520mm (space left) – 450mm (door) = 70mm gap remaining.
The remaining 70mm is required for a corner post so that the door for the unit you see on wall A can open. You can read more on corner posts here.
Now, if your wall/run is a little shorter then you can use a corner base unit which is 900mm wide. If your wall/run is a little longer then you can use either a 1000mm/1100mm/1300/1500mm/1700 unit to help make everything fit properly.
Remember, you need a 130mm service void to be safe. Also, if you use a 900mm corner unit, then the door size is reduced to 400mm.
Straight Corner Base Unit Planning Tips
This is a short kitchen planning video, which explains how to plan your kitchen with a straight corner unit. The video also covers corner posts and service voids, which are essential in the planning of your kitchen, as they all take up space in your kitchen run.
More visuals
We have just updated our showroom and there is now an information area, where you can see a kitchen with a glass worktop, so that you can see how a service void looks in a completed kitchen as well as a corner post. The 2 images below show this as clear as it gets.
The first example below shows a 1000mm corner base unit and why 1130mm of space is required.
Download our mobile app
Looking for some kitchen inspiration? Take a look at some of our real customer kitchens, video reviews as well as advice in our mobile app. We'll also keep you up to date with any new ranges and offers that we have available.
Up to 50% off competitor kitchen prices
At DIY Kitchens, not only do you get a quality rigid built kitchen but you also get it at a fabulous price too! Price your kitchen up on our site and you could see savings of up to 50% off other kitchen quotes that you've had.
Take a look at our kitchen price comparison page here.
Real customer kitchens
Get some inspiration for designing your own new kitchen with over 3,000 pictures of our customers' kitchens that they ordered from us.
Related articles