Begin your kitchen plan by mapping out your new kitchen layout on a piece of graph paper. If you visit our 'Downloads' section of the website you'll be able to download our Kitchen Planner PDF.
The most important procedure in the planning stage is to accurately measure your room. We recommend that you plan your kitchen using the metric system as that's how we manufacture our cabinets but if you do prefer to use the old imperial system, remember that the conversion factor is:
1 inch = 25.4mm (2.54cm)
1 Foot = 304.8mm (30.48cm)
Draw the walls
Draw the walls on to your graph paper and add the positions of your doors and windows and any other restrictions such as a chimney breast and highlight which walls are external and which are internal.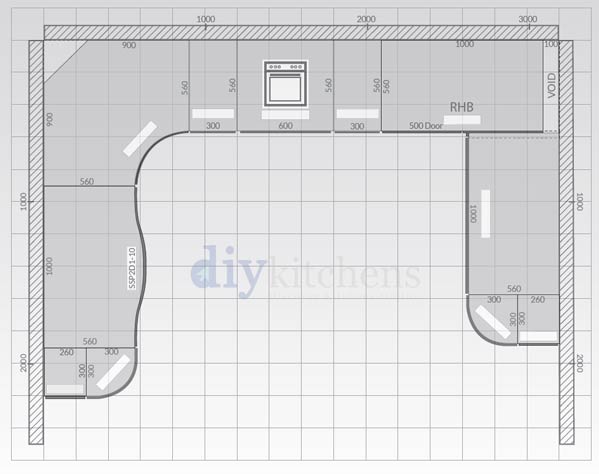 Ensure that you highlight on your plan where your electrical sockets are (or where you would like them to be), and where plumbing and waste pipes are located.
Do you have a boiler?
If you have a boiler, mark where it is located and make a note of what type of boiler it is – it may be prudent to contact the boiler manufacturer to discuss their installation recommendations or alternatively contact GasSafe for up to date information on regulations regarding gas installations. Remember, this is extremely important as a poorly ventilated boiler can cause carbon monoxide poisoning which can be fatal.
Plan carefully
If you plan to exact wall sizes then you'll more than likely come across problems during the installation. Allowing small 15-40mm fillers between the cabinets and the walls will give you more space to play with and stop handles clashing. Starting to plan your kitchen from the corners is also a good idea.
Key to the design of your kitchen are your storage requirements. Think about your needs, i.e. what do you have to store away and therefore how much storage space you will need? Also consider what items you might want to have on display and what needs to be hidden.
We have many different types of storage available such as kitchen islands, cabinets with pull-out wirework, clever corner storage options, dresser cabinets, plate racks and wine racks , larder cabinets and cabinet housings to disguise your appliances. We also have a vast range of unit widths – ranging from 150mm up to 1200mm, with 350, 450, 700mm & 900mm units that can't be found just anywhere and we also offer tall units and wall units in three different heights, allowing you to create the perfect layout for the space you have.
Kitchen Triangle
One of the most important design principles to consider when planning your kitchen is the 'Kitchen Work Triangle'. The three points of this imaginary triangle are where the majority of your tasks in the kitchen are carried out – Cooking (position of oven/hob), Preparation (position of sink) and Food Storage (position of fridge).
The idea is that these three functions are in close (but not too close) proximity to one other, so therefore the kitchen will run much more efficiently. Although this may all sound rather complicated, essentially, what this means in practise is that everything you would need in preparing and cooking a meal is within easy reach.
As well as implementing the 'Kitchen Work Triangle' principle, another good idea is to plan your kitchen around you and a good tip if you struggle a little with your mobility is to utilise drawers and wirework pull-outs where possible as these bring pots/pans/food out of the cupboard and in to the kitchen, thus reducing the need to bend and reach inside.
The following information may be useful to you when creating your plan:
Keep the 'Kitchen Work Triangle' distance (between the sink, fridge and cooker) at 7m or less.
Ideally leave at least 1200mm clearance between opposite cabinets , so that two people can move around at once.
Standard 560mm deep base cabinets might be a tight squeeze if your kitchen is less than 1800mm wide from one wall to the other. You can solve this issue by using our reduced depth cabinets which are only 460mm deep.
Cabinet doors open to a maximum of 600mm, dishwasher doors usually open to 600mm and oven doors by 500mm so make that these won't clash with any surrounding features or cabinets.
Our downloadable kitchen planner also include units for built-in appliance but the below table gives typical free-standing appliance measurements:
| | | | |
| --- | --- | --- | --- |
|   | Cooker | Fridge/Freezer | Washer |
| Height | 900mm | 1400mm-1800mm | 850mm |
| Width | 500mm-600mm | 500mm-600mm | 560mm-600mm |
| Depth | 600mm | 560mm-650mm | 520mm-620mm |
| | | |
| --- | --- | --- |
|   | Dishwasher | Slimline Dishwasher |
| Height | 850mm | 850mm |
| Width | 600mm | 450mm |
| Depth | 540mm-600mm | 540mm-600mm |