Many people opt to go for an American Fridge/Freezer in their homes for 2 reasons. Firstly, they can be very stylish and can create quite a feature in your kitchen and secondly, they are massive and can hold a lot of food, especially handy if you have a large family!
Creating the box
The box to house the American Fridge/Freezer can be created with numerous different sized units but the bare minimum you are going to need is as follows.
The image below gives a top down view of how these units will look using 2 x 600mm wide tall units and 1 x 1000mm wide top box (wall unit). Notice how the American Fridge/Freezer sticks out a bit and the top box is not as deep as the other units?
The reason that the fridge sticks out a bit is to allow the doors to open properly. Some people say that they would like it flush with the tall units, to make it line up with all the other units but the American Fridge/Freezer is supposed to be fitted like this. The protrusion of the fridge will allow the doors to be opened, without clashing on the units surrounding it.
Now, the top box is basically a wall unit and as such, is only 300mm deep. The top box would need to be brought forward, to run in line with the fronts of the tall units and bolted to each tall unit for support using the supplied unit connecting bolts.
We have no wall units that are any deeper than 300mm deep and there will be a gap between the top box and the wall, but it will never been seen as it way above eye line.
You can learn more about the top boxes that we can supply here.
Example American fridge/freezers in customers' homes
Here are a few examples of American Fridge/Freezers that have been fitted in people's homes. See how some people have used 300mm pull out larder units at the sides as well as the 600mm wide tall storage units? Someone has even put a tall wine rack next to it (and above it), which is really convenient if you are fond of a glass of white wine and don't want to walk too far to be able to stock the fridge up:-)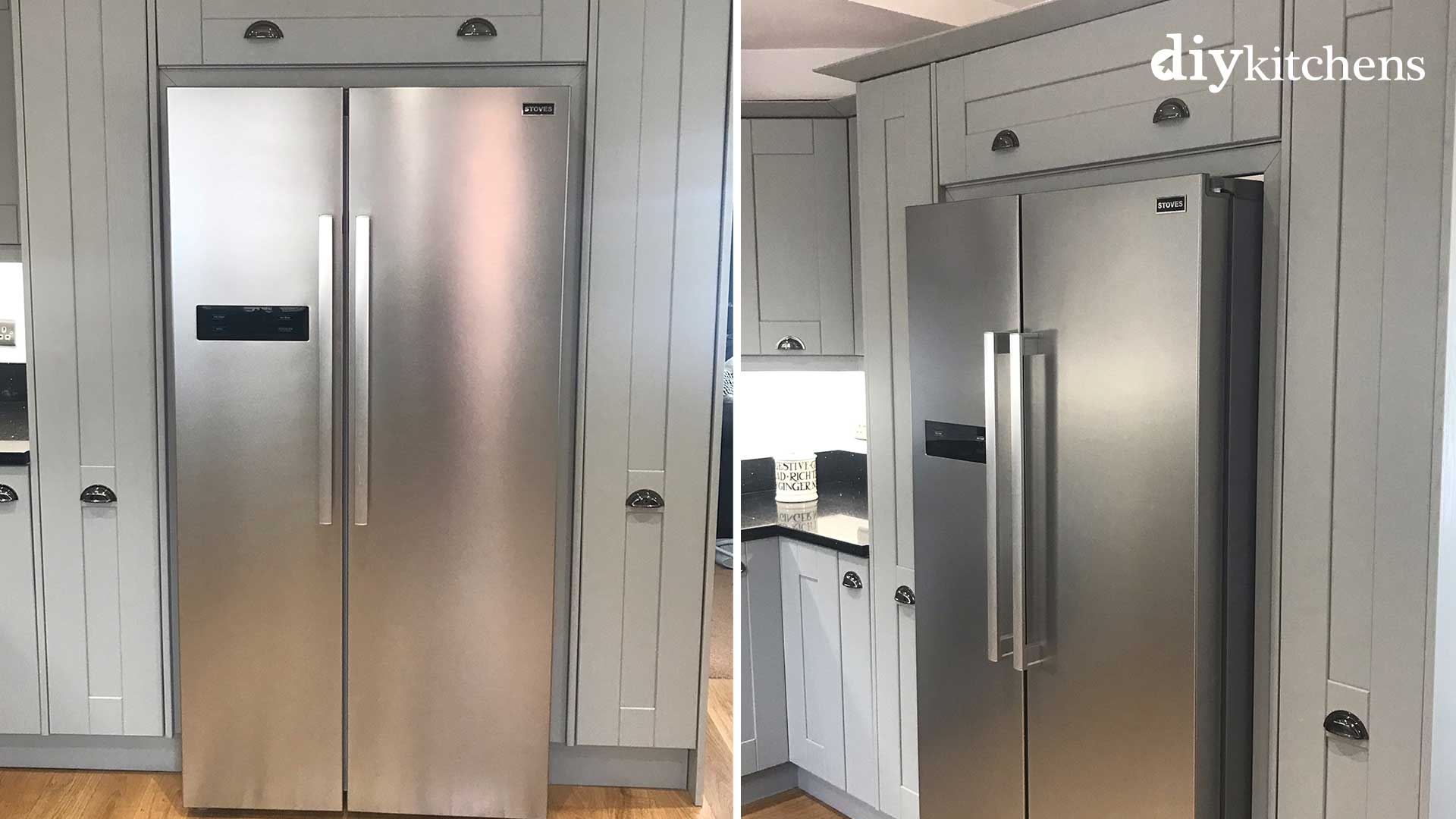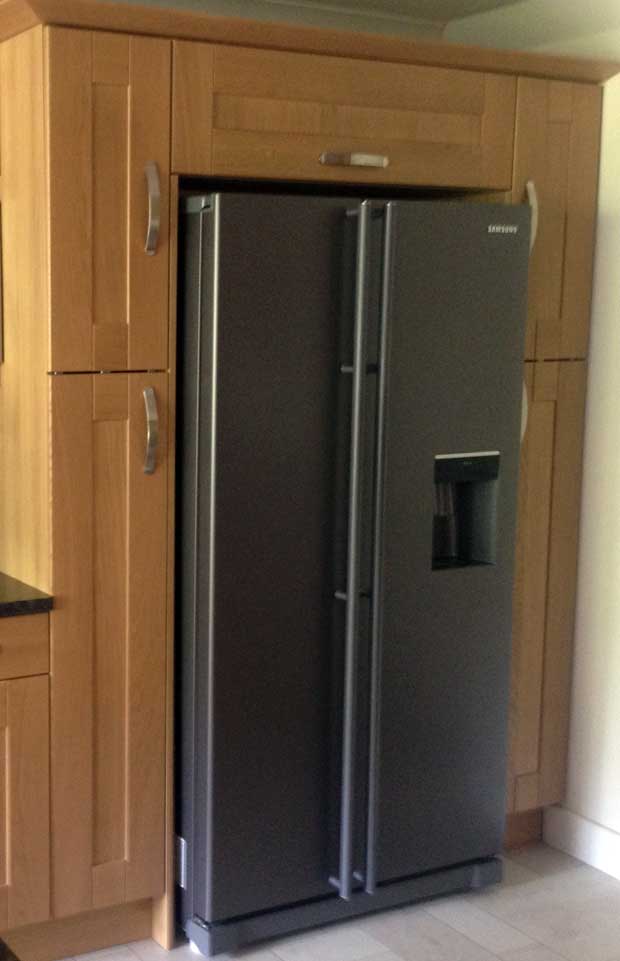 Download our mobile app
Looking for some kitchen inspiration? Take a look at some of our real customer kitchens, video reviews as well as advice in our mobile app. We'll also keep you up to date with any new ranges and offers that we have available.
Up to 50% off competitor kitchen prices
At DIY Kitchens, not only do you get a quality rigid built kitchen but you also get it at a fabulous price too! Price your kitchen up on our site and you could see savings of up to 50% off other kitchen quotes that you've had.
Take a look at our kitchen price comparison page here.
Real customer kitchens
Get some inspiration for designing your own new kitchen with over 3,000 pictures of our customers' kitchens that they ordered from us.
Related articles