A question that we were recently asked was "What is a 1250mm high base unit?" Read on to find out more.
Well, a 1250mm high base unit, more commonly known as a mid height unit can be used in place of tall units or to create something a little different in your kitchen design where a standard base unit, does not quite fit in with your plans.

Uses for a 1250mm high base unit
1250mm high base units are very useful for appliances like single under counter ovens and fridge/freezers, as they allow you to raise the appliances higher than you could in a standard base unit, for easier access.
As the units are only 1250mm high, you can also put some worktop on the top of them and use that area as some additional storage or use it to dress the kitchen with pictures or objects from your travels.

Types of 1250mm high base units
On our website, we have a few different types of 1250mm wide, mid height base units, these include:
Examples
Here are some examples of how 1250mm high, mid height units have already been used in our customers' homes.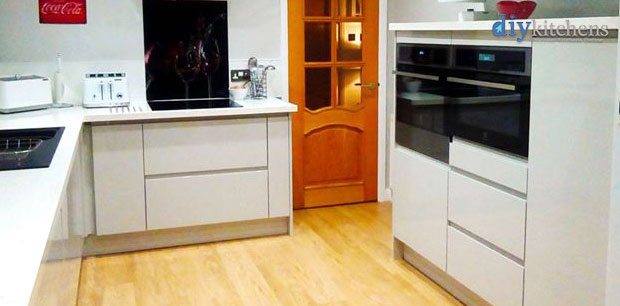 You can see all the mid height units that we have available on our website here.
Download our mobile app
Looking for some kitchen inspiration? Take a look at some of our real customer kitchens, video reviews as well as advice in our mobile app. We'll also keep you up to date with any new ranges and offers that we have available.
Up to 50% off competitor kitchen prices
At DIY Kitchens, not only do you get a quality rigid built kitchen but you also get it at a fabulous price too! Price your kitchen up on our site and you could see savings of up to 50% off other kitchen quotes that you've had.
Take a look at our kitchen price comparison page here.
Real customer kitchens
Get some inspiration for designing your own new kitchen with over 3,000 pictures of our customers' kitchens that they ordered from us.
Related articles