Many people ask the question, "what is the difference between highline and drawerline units?" Well, the answer is pretty straightforward and shown below.
Highline Kitchen Base Units
A highline kitchen base unit basically means that the door of the unit starts at the bottom of the unit and finishes at the top, giving you a highline, which sit just under your worktop. These highline units give you a great deal of space but there is no space for pull out drawers.
Please see the highline kitchen base units below to give you an idea of what they look like.
Theses units come in 2 styles, single highline & double highline base units.
Drawerline Kitchen Base Units
You probably guessed it after reading the bit above. Drawerline units have a drawer at the top of the unit, which in turn gives you a smaller unit below and a smaller door.
Although you get a little less unit space, you do get the convenience of a drawer where you can neatly organise your cooking utensils or save 1 drawer to chuck in all those free take-away leaflets that most people would be lost without.
See the drawerline kitchen base units below to give you some idea of what they look like.
Multi Drawer Kitchen Base Units
As well as having units with just the one pull out drawer, we also have units that are nothing but pull out drawers! Very handy if you want some drawers in your kitchen but you want to keep the highline effect everywhere else in your kitchen. See the images below for some examples of these multi-drawer kitchen base units.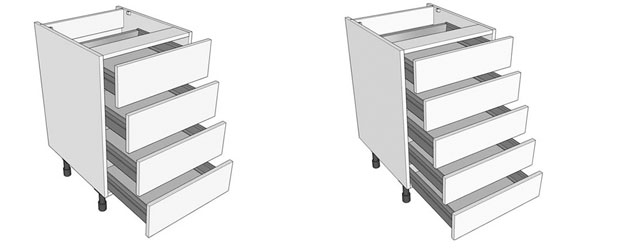 Pan Drawer Kitchen Base Units
If you are looking for drawers, which are a bit more hefty and need to hold much bigger items then you can either get a mixture of short and tall drawers or you can go for a complete pan drawer unit instead.
See the images below to see how these would look in your kitchen.
There you have it, a short introduction into the types of highline and drawerline units that are available. If you want to  see more of these units then click the links below.
Highline Kitchen Base Units 
Drawerline Kitchen Base Units
Kitchen unit specification video
Take a look at our kitchen unit specification video below, so that you can see exactly what you will be buying from us. All our units come fully built with all doors, drawers and hinges already attached. We do all of the assembly for you to make your kitchen installation much easier!
Download our mobile app
Looking for some kitchen inspiration? Take a look at some of our real customer kitchens, video reviews as well as advice in our mobile app. We'll also keep you up to date with any new ranges and offers that we have available.
Up to 50% off competitor kitchen prices
At DIY Kitchens, not only do you get a quality rigid built kitchen but you also get it at a fabulous price too! Price your kitchen up on our site and you could see savings of up to 50% off other kitchen quotes that you've had.
Take a look at our kitchen price comparison page here.
Real customer kitchens
Get some inspiration for designing your own new kitchen with over 3,000 pictures of our customers' kitchens that they ordered from us.
Related articles