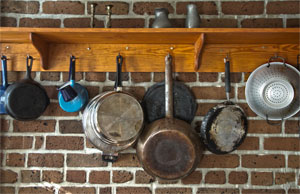 If you've been cooking bacon or sausage sarnies en mass in a frying pan then you can be left with quite in mess in the bottom of it as the fat starts to stick to the bottom!
To make washing up a little easier, as your cooking in the frying pan, put the kettle on and get some hot water on the boil. When you have cooked your bacon or sausages, transfer them onto some kitchen towel for a few minutes to soak up any excess fat and pour some of the hot water from the kettle into the frying pan and get the water boiling again whilst string the bottom of the pan with a spatula or something similar.
This process will help clean the pan and all you have to do now is turn the hob off, enjoy your sarnie and when you come back to wash up, the frying pan will be easier to clean!
But, as you cooked the sarnie, I guess your other half or another member of the household should do their share and wash up for you, after all, you've done the hard bit:-)
Download our mobile app
Looking for some kitchen inspiration? Take a look at some of our real customer kitchens, video reviews as well as advice in our mobile app. We'll also keep you up to date with any new ranges and offers that we have available.
Up to 50% off competitor kitchen prices
At DIY Kitchens, not only do you get a quality rigid built kitchen but you also get it at a fabulous price too! Price your kitchen up on our site and you could see savings of up to 50% off other kitchen quotes that you've had.
Take a look at our kitchen price comparison page here.
Real customer kitchens
Get some inspiration for designing your own new kitchen with over 3,000 pictures of our customers' kitchens that they ordered from us.
Related articles