The kitchen is the most used place in the home and having children that follow you around the house is nice but it can place them in areas where you would like them to avoid, like your glassware casserole dish cupboard that has become more desirable to your toddler than a bag full of chocolates!
Below you will find some ideas on how to safeguard your kitchen.

Choosing kitchen  cupboard locks
I thought long and hard about kitchen cupboard locks, because if you have just brought a new kitchen, the last thing you will want to do is start drilling holes in all the doors to attach cupboard locks! But your child's safety does come first and if you feel that is something you want to do then you can always replace some doors later down the line.
Now, if you approach this issue from the right angle, the amount of locks that you are going to need can be reduced.
First of all you'll already have a mountain of plastic plates, cups and cutlery for your toddler. So, why not place them in a lower cupboard and let your toddler play around in the cupboard to their hearts content? It will save you from having to say "no, stay out of the cupboards" all the time.
Next, remove any dangerous liquids to your wall cupboards, it's better to be safe then sorry. Now you should be able to get most items that you may class and fragile or dangerous in a couple of cupboards, which will reduce the amount of locks that you'll have to buy.
Now here is your next decision, what type of lock should I buy?
Magnetic locks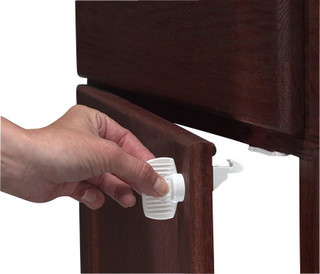 One of the easiest and cleanest locks you will get are the magnetic cupboard locks. These simply stick to the inside of your kitchen units and a magnetic key is used to turn the mechanism on the inside.
I'm personally not a fan of sticky things but if you buy some of those Unibond No More Nails sticky pads then they will ensure that whatever your stick to your cupboards, will actually stick! I have used the pads on my wireless doorbell outside my house and the doorbell is still stuck to the wall, 2 years later!
This Google image search will show you these types of locks and what they look like.
The locks that I have personally used on my own kitchen units are show below. I have been using them for a year now and they are still going strong and work well, they are by BabyDan
Cupboard handle locks
If you have double doors on your kitchen cupboards then you can buy locks that loop around both handles, this is a quick, clean and inexpensive way of securing a kitchen cupboard and, without the need of drilling or screwing anything in place.
This Google image search will show you these types of locks and what they look like.
Open plan kitchen
Some people have what is a called an open plan kitchen and an easy solution if you don't want your toddler anywhere near your kitchen cupboards or appliances is to put up a very long safety barrier, just like a stair gate but much, much wider. This will ensure maximum safety but you may have one noisy screaming toddler trying to get to you:-)
Toddler Cupboards
If you're anything like me, you'll have and need a cupboard to put all your toddlers' cups, bowls & plates in. Because their stuff is in a cupboard that they can see and now easily get to, then that cupboard belongs to them!
Now, putting a lock on this cupboard could have serious effects on your mental health but having your child slam the door 10 times a day, could be a problem. But, there is an easy solution…
All our units come with a soft close mechanism as standard, and for most adults that gently push the door close, this works just fine but if you have a toddler that is just understanding how strong their arms really are and like to slam shut cupboard doors, just to ensure that they are closed, then you may want to put one of the clip on soft close mechanism on both of the hinges, as shown in the image on the right, for extra 'unit safety' and to keep the noise down:-)
See soft close in action below!
Download our mobile app
Looking for some kitchen inspiration? Take a look at some of our real customer kitchens, video reviews as well as advice in our mobile app. We'll also keep you up to date with any new ranges and offers that we have available.
Up to 50% off competitor kitchen prices
At DIY Kitchens, not only do you get a quality rigid built kitchen but you also get it at a fabulous price too! Price your kitchen up on our site and you could see savings of up to 50% off other kitchen quotes that you've had.
Take a look at our kitchen price comparison page here.
Real customer kitchens
Get some inspiration for designing your own new kitchen with over 3,000 pictures of our customers' kitchens that they ordered from us.
Related articles