A wicker basket unit, more commonly seen in many traditional kitchen styles, is a very useful storage unit to store food items in. Such items include fresh vegetables, fruit and anything else that is commonly used in food preparation in the kitchen, that you would like easy access to.
What is wicker?
The name wicker refers to the way in which the baskets are hand woven together and natural materials are used to create the weave. In between the weave, air can still flow through the baskets, keeping any items stored in them, as fresh as possible.
Available sizes and kitchen ranges
Our wicker baskets are available in all our kitchen ranges and consists of a unit with a top drawer and 2 wicker baskets located below it.  The unit also comes in 2 widths, as shown below.
The trays themselves are always 450mm deep and 210mm in height, regardless of the width of unit that you choose.
The wicker baskets are also attached to the unit with solid wood runners either side, allowing full access to it and you can completely take the basket out, when needed, to clean it.
Each basket can hold a fair amount with a maximum weight capacity of 20kg per basket. Should you need to buy additional or replacement baskets in the future then we can offer replacement wicker baskets but these come in packs of 2, so we cannot offer them individually. These items can be ordered through our sales team.
Wicker basket examples
Here's how wicker baskets could look in your kitchen from some of our real customer kitchen examples
.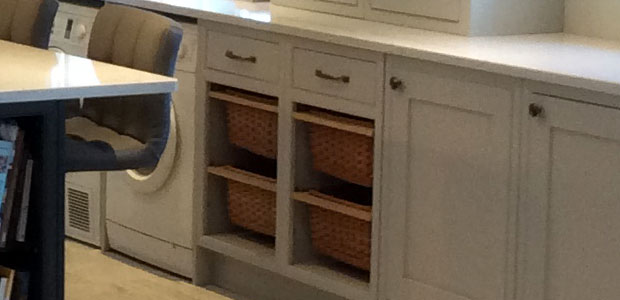 Download our mobile app
Looking for some kitchen inspiration? Take a look at some of our real customer kitchens, video reviews as well as advice in our mobile app. We'll also keep you up to date with any new ranges and offers that we have available.
Up to 50% off competitor kitchen prices
At DIY Kitchens, not only do you get a quality rigid built kitchen but you also get it at a fabulous price too! Price your kitchen up on our site and you could see savings of up to 50% off other kitchen quotes that you've had.
Take a look at our kitchen price comparison page here.
Real customer kitchens
Get some inspiration for designing your own new kitchen with over 3,000 pictures of our customers' kitchens that they ordered from us.
Related articles