A wine cooler is a great addition to any kitchen and can free up valuable space in your main fridge. A wine cooler can store any type of bottle that needs to be kept cool (or ambient), in one convenient, easy to access location. There are few ways to integrate a wine cooler into your kitchen and this article will show you how.
Features
Most wine coolers do exactly what it says on the tin, they keep your wine cool, but did you know that some wine coolers also have 2 temperature zones, that can be kept at different temperatures, ranging from 5 to 22 degrees! Now, 22 degrees is around room temperature, which means you can store your red wine in there too!
Another feature of some wine coolers is the ability to turn on the internal light, which can create some nice ambiance in your kitchen when the main lighting is turned off.
Other features include reversable doors, toughened glass, UV ray blocking doors & external LED displays.
If you have space in your kitchen design, then it's worth considering a wine cooler to make your kitchen even more functional!
Built under wine coolers
Once of the most common types of wine cooler is the built under type. These wine coolers come in widths ranging from 150mm right up to 600mm. If you have the space and are prepared to pay a little extra, then the 600mm wine coolers can hold around 40 bottles!
When positioning a built under wine cooler, you just need the space left between 2 units, or a unit and an end panel, if positioned at the end of a kitchen run.
Built in wine coolers
A built-in wine cooler does require the space inside a unit, usually in a tall appliance unit or mid-sized unit. Choosing a built in wine cooler, raises the appliance to around waist height and makes the appliance really accessible, whilst making the contents more visible.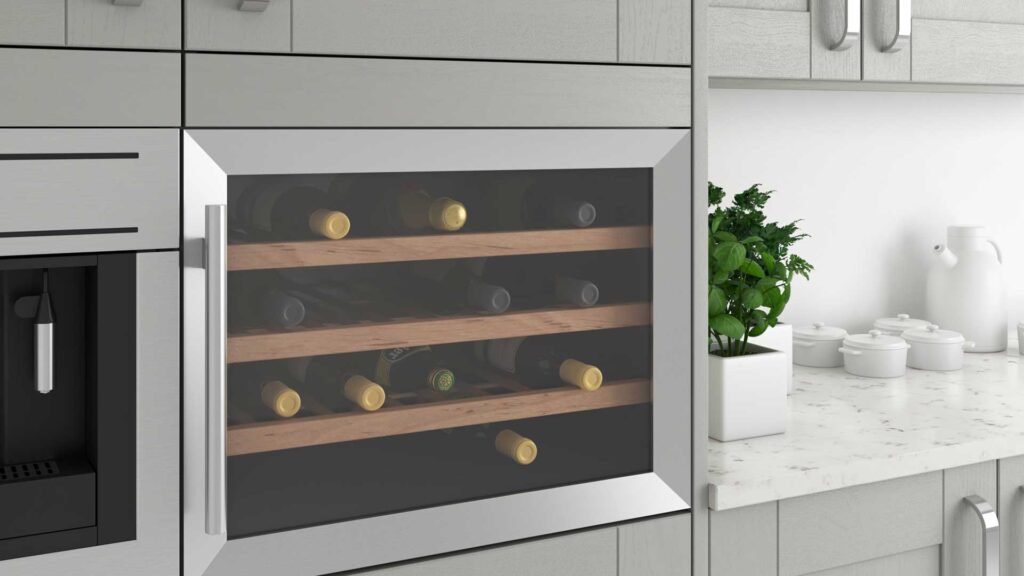 Freestanding wine coolers
If you don't have the space for a wine cooler under a worktop or in a unit then you can always opt for a freestanding wine cooler instead.
These appliances are a lot smaller, compared to a convectional fridge and can be positioned in a lot more places within the kitchen.
Do I need end panels either side?
If the wine cooler is at the end of the run and will have an exposed side, then an end panel would be required.
However, if the wine cooler is between units, then end panels are not needed. Some customers do use end panels however, to create a framed effect around the wine cooler and to give the plinth something to butt up to. There is usually a vent at the bottom of the wine cooler, which cannot be blocked by plinth, unless the vent is located in a different location.
More examples
If you are looking for a little inspiration and some ideas on how a wine cooler could look in your kitchen, then look no further! Here are some examples that our customers have installed in their own kitchens.
Download our mobile app
Looking for some kitchen inspiration? Take a look at some of our real customer kitchens, video reviews as well as advice in
our mobile app
. We'll also keep you up to date with any new ranges and offers that we have available.
Up to 50% off competitor kitchen prices
At DIY Kitchens, not only do you get a quality rigid built kitchen but you also get it at a fabulous price too! Price your kitchen up on our site and you could see savings of up to 50% off other kitchen quotes that you've had. Take a look at our kitchen
price comparison page here
.
Real customer kitchens
Get some inspiration for designing your own new kitchen with over 3,000
pictures of our customers' kitchens
that they ordered from us.
Related articles