Splashbacks, upstands or even tiling are all options available to you when protecting kitchen walls that are susceptible to water splashes, bubbling pans or contents from a spitting frying pan.
Which one is right for you I hear you ask? Well, that all depends on the look that you are after inside your kitchen and the budget that you have available.
See the sections below to see some images of how kitchens utilise splashbacks, tiles  and upstands.
Upstands
Our laminate upstands are around 120mm high and are used to create a border around the kitchen wall that is easy to wipe down after cooking. Upstands are also available in granite, quartz and Dekton and can be as high as 200mm, but the cost of granite is considerably more.
It is not recommended to have laminate upstands around the hob area. Laminate upstands are made primarily of wood and gas hobs can tend to project flames quite far, and as we all know, wood and flames do not mix! The solution would be to either use granite, which can go behind the hob or use a splashback or tiles behind the hob instead.
Splashbacks
Think of an upstand but much bigger. Splashbacks can either be put behind a kitchen hob or sink or you can have them all around your kitchen to leave a real stylish effect that will also be really easy to clean after prepping food.
Splashbacks are available in a multitude of materials ranging from stainless steel, glass, granite & acrylic. Splashbacks are about 20mm in thickness, so remember to factor this in as they butt up to your worktop so you will lose 20mm of usable space all the way around.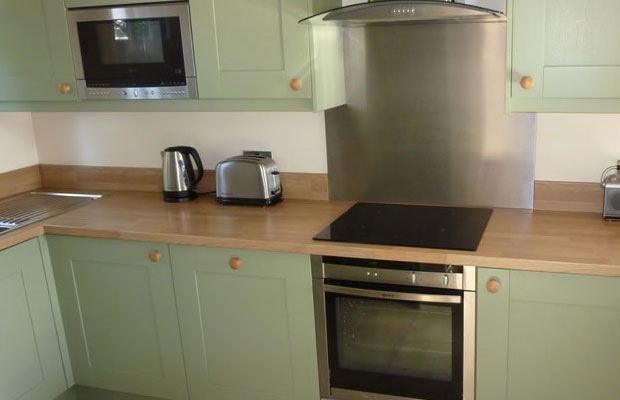 Tiling
Some people tend to tile the splashback areas of their kitchen, which is perfectly fine and can look just as good. Other people like to mix and match tiles with upstands to get a completely unique look. Whatever method you choose, your kitchens walls will get the protection that they need.
Download our mobile app
Looking for some kitchen inspiration? Take a look at some of our real customer kitchens, video reviews as well as advice in our mobile app. We'll also keep you up to date with any new ranges and offers that we have available.
Up to 50% off competitor kitchen prices
At DIY Kitchens, not only do you get a quality rigid built kitchen but you also get it at a fabulous price too! Price your kitchen up on our site and you could see savings of up to 50% off other kitchen quotes that you've had.
Take a look at our kitchen price comparison page here.
Real customer kitchens
Get some inspiration for designing your own new kitchen with over 3,000 pictures of our customers' kitchens that they ordered from us.
Related articles