When deciding on which tall oven housing to choose from you need to think about exactly what you want to do with the rest of the unit. Are you going to have a single oven and a door at the bottom or a double oven with a few pull out drawers below or any one of the other options that we have available?

You have options
Some people like their oven to line up perfectly with the worktop but you only get this effect if you have just the 1 single oven in a tall unit or if you have a compact appliance and/or a warming drawer.
The numbers on the image below denote the door or filler sizes required to fill the apertures.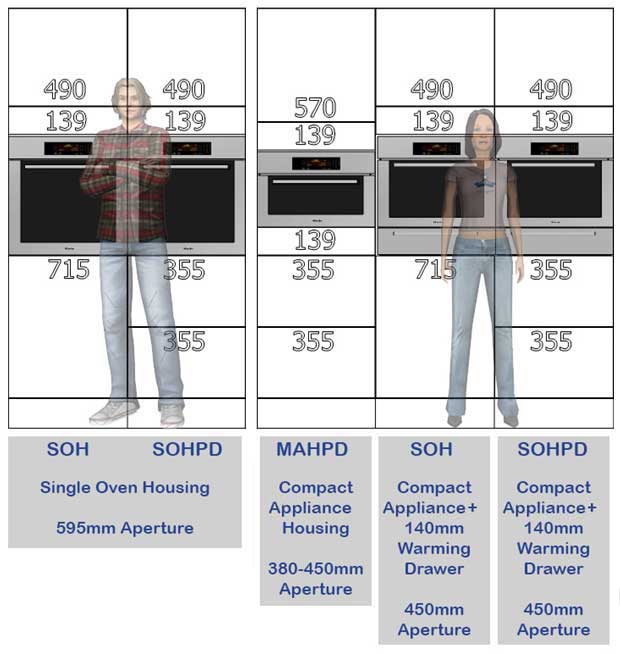 If you have a double oven then it will drop below the level of the worktop due to the sheer size of the oven and to make it accessible. The same as having a single oven with microwave housing.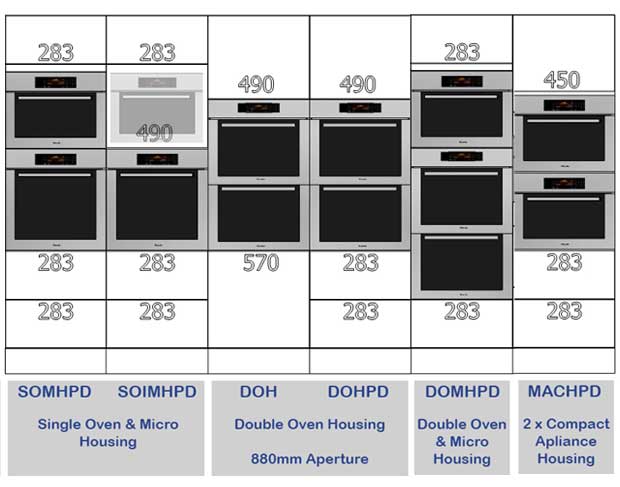 The sections marked 183 & 355 on the images above are pull out drawers
The sections marked 283 are the sizes of the cupboard doors or drawers
The sections marked 490, 570 & 715 are standard cupboard doors
The sections marked 139 are filler panels
Horizontal lines
When designing a new kitchen, some people like the horizontal lines of pull out drawers to match any other pull out drawers in the kitchen run as shown below.
This is not a necessity but required by some customers. Here is an example of a kitchen where the horizontal lines of the pan drawer do not line up with those of the drawers on the oven housing but as you can see, the kitchen still looks great!
So, before you start planning your kitchen, have a think about all of the above (doors or drawers & lines) and you'll get the look and feel that you are looking for.

Download our mobile app
Looking for some kitchen inspiration? Take a look at some of our real customer kitchens, video reviews as well as advice in our mobile app. We'll also keep you up to date with any new ranges and offers that we have available.
Up to 50% off competitor kitchen prices
At DIY Kitchens, not only do you get a quality rigid built kitchen but you also get it at a fabulous price too! Price your kitchen up on our site and you could see savings of up to 50% off other kitchen quotes that you've had.
Take a look at our kitchen price comparison page here.
Real customer kitchens
Get some inspiration for designing your own new kitchen with over 3,000 pictures of our customers' kitchens that they ordered from us.
Related articles